Our Assessments Make it Simple
to Understand Your Capabilities
SQL capabilities are a foundational aspect of many data science roles. Being able to efficiently wrangle information is a must for teams dealing with varied, complex data sets. 
Our SQL assessments give you confidence that the candidate has the hands-on experiences you need.
So, you've got the data but how do you determine correlations and causes? Statistical capabilities are an often under-discussed aspect of data science roles.
Chisel's statistics assessments allow you to objectively evaluate the statistical abilities of your new team mates.
New tools can make it easy to run regression analysis, and other techniques to help identify relationships in your information. But can your candidates provide the "so what" behind the results?
Our data interpretation assessment helps you understand what level of insight your team can define.
Machine learning applications can take your data-driven strategies to the next level. But, you need practitioners who know the tools and techniques to help you execute. 
Analytics starts with data. Acquiring, structuring and managing the information is the core of a database engineer's role, and a critical element of your data science needs. 
Our assessment gives you confidence that the candidates are capable with Big Data management.
Our consolidated Data Science assessment is a great resource for objectively and simply assessing data science skills.
From data acquisition, modeling and analysis, and data interpretation, you can feel confident in the skills your team has.
Visualizations and Report Development
Relaying information to key stakeholders is a critical aspect of data science strategy. With a bevy of available tools, it's important to be able to effectively relay information in a variety of ways.
Our assessment helps you understand candidates abilities to design and execute reporting and visualizations in leading business intelligence tools. 
Chisel's Simple, Self-Service Options Allow You
to Move Forward -- When You Need To
Sign Up and Invite Candidates
Simply enter the candidates email address and select the assessments you want to leverage.
You can upload as many candidates as needed using a .CSV or Excel file.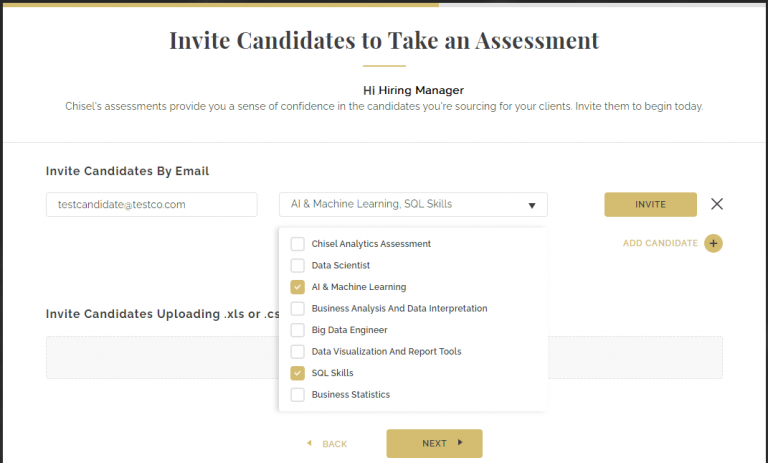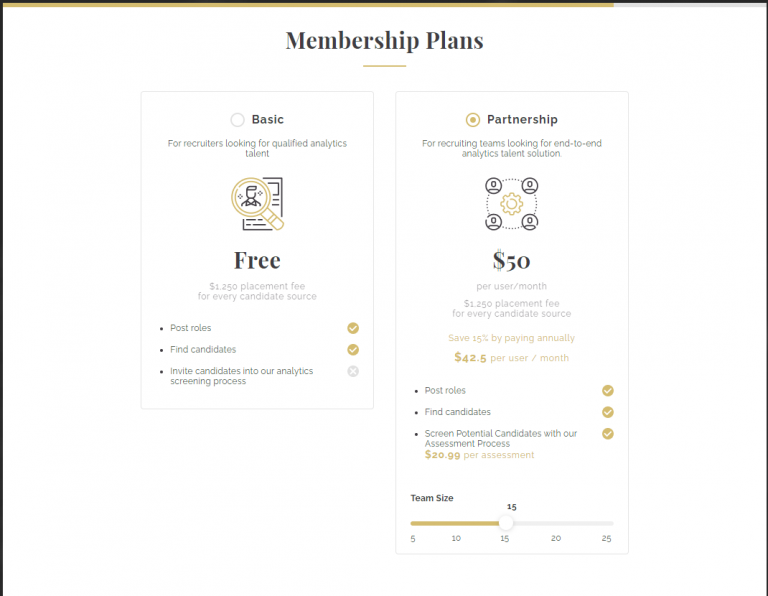 Partnering with other analytics managers or leadership who you want to see results? Add them to your account and start partnering. 
View and Manage Assessments
Simple dashboard allows you to see candidate progress and results, send reminders, or perform additional assessments.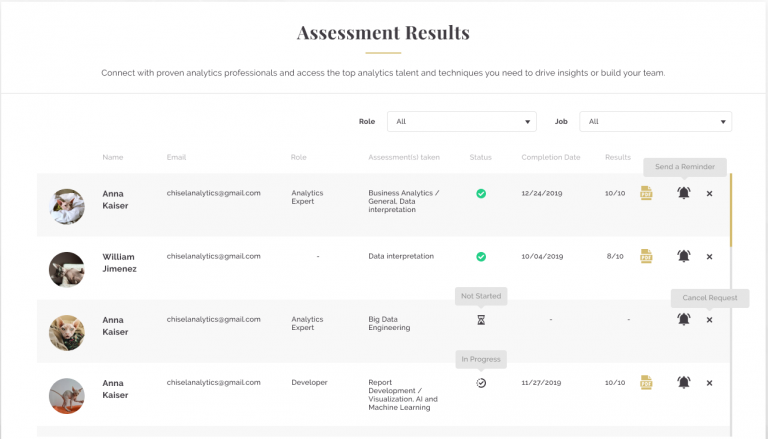 Insights from Chisel's Team of Analytics Experts
Evaluating Candidates for Your Data Teams


Evaluating candidates for your data science or analytics teams can be time consuming and – at times – frustrating. But there are some things to keep in mind and ways to make the process more effective and less time consuming.
Read more….
What Makes a Good Data Scientist


With an ever-evolving set of tools and techniques that can be leveraged by your data teams, it can be hard for HR to keep up with how to best evaluate potential data science hires. Learn some tips from Chisel's team of experts on evaluating potential candidates.
Read more….
Effectively hire and retain a Data Science team in the midst of a crisis
Hiring and retaining data scientists is difficult, but keeping them engaged can present an even bigger challenge. Read some insights from our Industry advisor on how to drive engagement among your data science teams.
Read more….