Democratizing Access to Data Driven Insights
As the volume and sources of data has grown, so have the possible applications of analytics and data science. And with the advent of techniques such as machine learning and other AI-based solutions, the demand for access to data will continue to accelerate.
Leading organizations are responding to this acceleration by treating their data as an asset that can help them improve operational performance and identify opportunities for new revenue generation.
However, while certain industry sectors have quickly adopted analytics and data science — namely professional services, finance and insurance — there continues to be room for growth in the use of data in other industries, as well as an untapped usage of the data and analytics talent needed to support analytical efforts.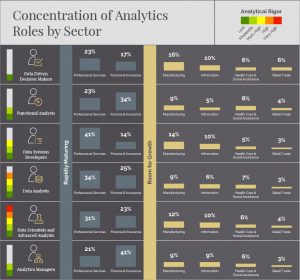 Finding the right talent:
While possible applications of analytics and data-driven solutions continue to grow, the supply of professionals who can execute them has not.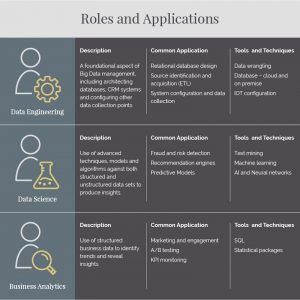 For data scientist and other analytics minded professionals, this has created a bull market where demand outstrips supply. Data science professionals enjoy some of the fastest growing opportunities and highest levels of compensation relative to their peers.
In 2018 the median salary for data science professionals was nearly $120,000 with an anticipated growth of 19% in available jobs through 2020 according to the Bureau of Labor Statistics,
In this type of market, finding the right data or analytics professional is much more reasonable for large organizations that have robust data operations.
For small and medium businesses, or new entrants, there are usually three primary options:
Upskilling the workforce through training on new techniques and technologies,
Building an analytics function with a team of new hires – usually embedded under a marketing, finance or dedicated data or analytics function or,
Pursuing recurring consulting engagements that can ultimately be as costly as full time hires.
How Chisel can help:
Chisel Analytics introduces a new option – one that allows you to innovate, collaborate and scale your analytics efforts based on the challenge at hand and with the talent you need.
Our simple analytics needs assessment creates a set of recommended efforts to pursue, and helps you find the professionals you need to tackle them through project-based engagements, or full time placements. And if you've already established an analytics team, Chisel's tools will allow you to integrate your team members with Chisel's professionals to quickly scale and tackle your next business challenge head on.
Not sure where to start? Take our simple, 6-question assessment to get started.