Top Jobs for Data and Analytics Professionals
An Expansion of Analytics-focused Roles
In response to the huge growth in data and its increasing importance to organizational strategy and growth, a variety of roles have been created to manage and support organizational efforts. This has created a growing set of opportunities for analytics professionals to build a career focused on data, strategy and analytics.
These roles run the spectrum of needs, from data engineers responsible for database design and data acquisition, to data scientists focused on exploring captured information and deriving insights, and business analysts and analytics managers leveraging data to monitor organizational performance.
These roles – in particular data scientists – enjoy some of the most competitive compensation and widest array of opportunities for new professionals.
Career Options for Analytics Professionals:
A growing number of roles are needed to support an organization's analytics and data needs.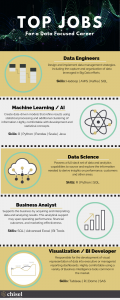 For professionals with a passion for data and analytics, now is a great time to find an exciting career option. Get started today. Find your next  data driven role at chiselanalytics.com.